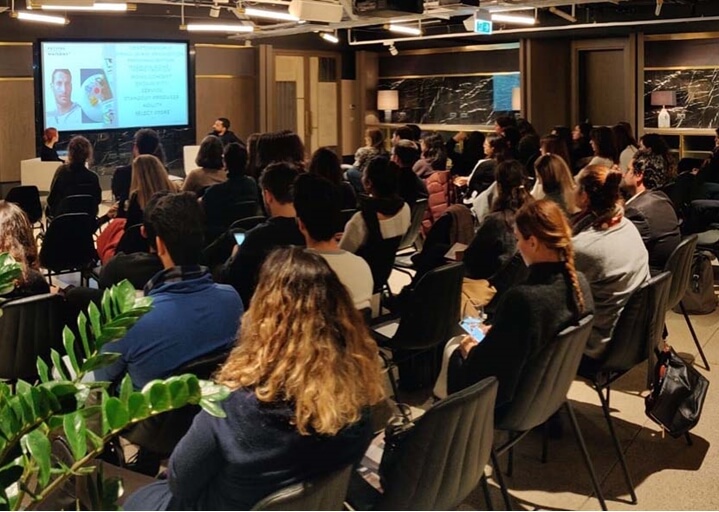 In-Between, 2019 Tasarım Konseptlerini Maison&Objet İşbirliği ile Sundu…
"İklim değişimi, doğal kaynak tüketimi, plastik kullanım ile okyanuslardaki canlılara ve besin zincirine olan tehditler gibi çevresel krizler, bizi, tüketim alışkanlıklarımızı ve üretim biçimlerimizi yeniden değerlendirmeye yönlendiriyor. Bireysel olarak geliştirdiğimiz tavırlar, tasarım sahnesinde üretimle birleşince, bireysellikten çıkıp daha geniş etki alanlarına yayılıyor.
Makro ölçekteki sosyal ve ekonomik dönüşümler; mimarlık ve tasarım dünyasında geçmişten beri bir akımla karşılık bulmuş ve kendi zamanının temsilci olmuştur. 2018 yılının en önemli tasarım kritiklerinden biri olan "Design as An Attitude" (Bir Tavır Olarak Tasarım) kitabında Alice Rawsthorn, tasarımı, politika gibi farklı alanlarda aktif ve stratejik olarak kullanmaktan bahsediyor. Bugün içinde yaşadığımız dünyadaki dönüşümlere, sadece teoride değil, uygulamada da aktif bir şekilde karşılık veriyor, toplumda pozitif etki yaratma konusunda hepimiz üzerimizde bir misyon ve sorumluluk hissediyoruz.
Dünyanın en kapsamlı tasarım etkinliklerinden biri olan Maison & Objet'nin Ocak 2019 teması; bu süreçte, kimlik kavramının sorgulandığını ve kimlik üzerinden yeni bir evrensel aidiyet konseptinin geliştiğini savunuyor.
Maison & Objet'nin global trend ajansı Nelly Rodi işbirliği ile belirlediği Ocak 2019 teması "Excuse My French!" kimlik ile ilgili klişe olan herşeye kontrast oluşturmak üzerine gelişiyor. Excuse My French! kapsamında kültürel ve sosyal mirası temsil eden referanslar bugüne 4 farklı tema altında tercüme ediliyor:
New wave:
Çok kültürlü üretime inanan yeni jenerasyon, hibritleşmeye izin veren, farklılığı kabul eden ve dünyanın farklılıklarını kutlayan yeni bir akımı simgeliyor. Bu akım; değişime, keşiflere, paylaşıma, işbirliklerine ve füzyona açık.
Milano'da çalışmalarını sürdüren, Britt Moran ve Emiliano Salci tarafından kurulan Dimore Studio ve Dimore Galeri bu akımın günümüzdeki en önemli temsilcilerinden.
Dimore, 100 yılı aşkın bir süredir Bauhaus ve diğer modernist ekollerin öncülüğünde gelişen mimimalist tavra bir karşılık olarak, özellikle iç mekanlarda maximalist stili yeniden yorumluyor. Pratikleri, pop ve vintage öğeleri bir araya getiren, kürate edilmiş, duygusal hikaye anlatımı güçlü çevreler üzerinden izleyici ile diyalog kuran bir zemine oturuyor.
Pet lamp project ise tasarımı sosyal girişimcilik üzerine yorumlayan, zanaat kültürünü çağdaş tasarım sahnesine entegre eden bir proje. Proje, atık pet şişeleri yerel dokuma teknikleri ile yeniden kullanıma kazandırarak dönüştürüyor. Sosyal ve fiziksel çevremize duyarlılığımızı, sosyal fayda yaratan bir tasarım projesi üzerinden temsil eden günümüzün en iyi örneklerinden biri.
New tech:
New tech; yeni nesil girişimcileri, teknoloji ve ağlar üzerinden yeni pazar ve ürün geliştiren bir akımı temsil ediyor. Bu akımda; akıllı araçlar ve teknolojinin imkanları ile manipüle edilmiş gerçeklik üzerinden beş duyuya hitap eden konseptler ön plana çıkıyor.
Olivier Van Herpt geliştirdiği üç boyutlu seramik objelerle bugün çağdaş tasarım sahnesinde bu akımın en önemli temsilcilerinden biri. 3 boyutlu teknoloji üzerinden yaratılan yeni bir estetik anlayışını temsil ediyor. Tasarımın gerçekleştirilmesi için üretim aracı geliştirmede "disruptive" bir yaklaşım sergileyen tasarımcı, aynı zamanda insan ve makine etkileşimini ve işbirliğini tetikliyor. Olivier, ürünün mü, yoksa ürünü üretmek için tasarlanan aracın mı tasarım değeri taşıdığı üzerine günümüz tasarım tartışması için önemli bir başlık açıyor.
Benjamin Hubert ise, bu akım içerisinde "akıllı endüstriyel estetik" konseptinin temsilcisi. Aynı zamanda aktif bir girişimci. Akıllı ürünlerin, korkutucu bir gelecek değil, günlük yaşamımızda kullanabileceğimiz yardımcı ürünler olması açısından kullanıcıya güvenli ve yeni imkanlar sunuyor. Aynı zamanda gerçekleştirdiği işbirlikleri ile, günümüz değişen dünyasına yapıcı üretimleri ile karşılık veren neslin en önemli temsilcilerinden biri olarak ayrışıyor.
Üretim evi
Küçük üretim evleri, geçmişten günümüze tasarım peyzajında devrim niteliğinde bir etki yarattı. Yaratıcı ürün geliştirme döngüsünün mobilya, aksesuar ve obje olarak dağılımı bu peyzajda seçici ve seçkin bir zeminde konumlanıyor.
Elde üreten ve bir alana konsantre olup kendi "mono-konsept"ini geliştiren bir nesil bugünün "tasarım evleri"ni oluşturuyor.
Kanada'lı aydnlatma markas Bocci bir atölyeden dünyaya açılan ve her üründe elde üretim mantığı ile farklı bir form yakaladığı artizanal sürecin en önemli temsilcilerinden.
Marka, deneysel tasarım yaklaşımı ile, kreatif yönetim ve zanaat arasında bir bağ kuruyor.
Classic with a twist
Farklı stillerin bir araya gelmesi, beklenmedik dünyaların buluşması, dünyadaki klasik algısını değiştiren önemli değerler. Bu akımda stil; antik ve çağdaş değerlerin birleşimi olarak yorumlanıyor.
Mansur Gavriel, marka stili; perakende, web ve iletişim kanallarında deneyimletmesi açısından bu akmın günümüzdeki en önemli temsilcilerinden biri.
Millenial jenerasyonunun ilk lüks tüketim markasını kuran Gavriel, bir "bucket" çanta ile başlattığı markasını, minimal net kesimler ve formlar ile sürdürürken aynı zamanda markaya dair bir renk paleti algısı geliştirdi. Mansur Gavriel kendini üründen, mağazaya, online deneyiminden, satış platformuna; bir kulüp anlayışı üzerine oturuyor.
Nada Debs, Beyrut ve Japonya arasında yaşayan, Amerika'da Rhode Island School of Design'da eğitimini tamamlayan ve bugün çalışmaların Beyrut'ta sürdüren bir tasarımcı. Nada, globalde edindiği deneyimi, yerelle birleştiren neslin bir temsilcisi. Japon kültüründen gelen dokular ve örme tekniklerini, Beyrut zanaatı ile birleştiriyor. Böylece yeni bir tasarım yapmak için yeni bir şey keşfetmeye ve dolayısıyla tüketmeye gerek kalmada, var olan malzemeyi, referansı ve kültürel mirası kullanıp kişisel bir yorum katmak, bugün yaşadığımız çevresel ve sosyal krizlere karşılık veren tasarımcıları temsil ediyor.
2019'da Maison&Objet yılın tasarımcısı seçilen Sebastian Herkner, işbirliği kültürünün temsilcisi. Geleneği teknoloji ve zanaat ile birleştiriyor, sokaktan öğreniyor, tasarım ve tüketim döngüsünde alışageldiğimiz hiyerarşiyi değiştiriyor.
Bu sene Maison&Objet Rising Talents ödüllerinde Çin'den genç yetenekleri göreceğiz. Çin'in tasarım potansiyelini timesil edecek genç tasarımcılar, Liu Xu, Xing Tong-He, Qu Guangci, Tom Dixon, Luca Nichetto, Neri & Hu'dan oluşan jüri ekibi tarafından seçildi."