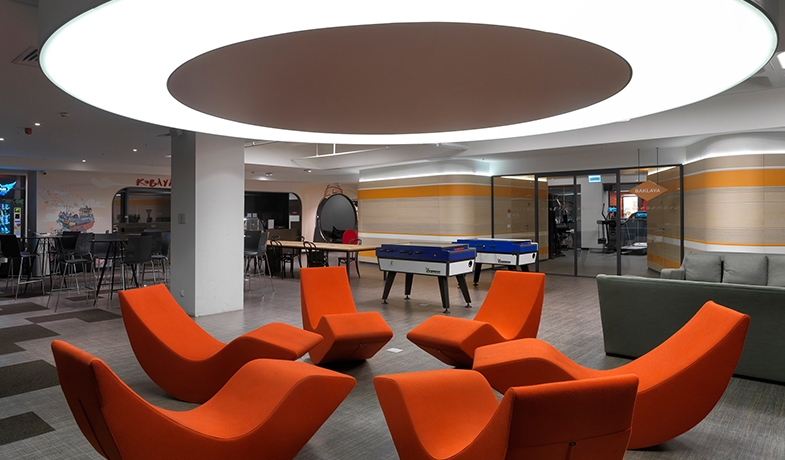 VERİMLİ BİR OFİSİN VAZGEÇİLMEZİ: RECHARGE ROOM
Pek çok araştırmaya göre iş yerinde verilen uyku molası verimliliği arttırıyor. 
Gün boyunca hem beynimiz hem de vücudumuz yorgun düşüyor. Bu yorgunluklarımızı kahve arası veya yemek molası vererek gidermeye çalışıyoruz. Peki hem vücudumuzu hem de zihnimizi dinlendirmenin farklı bir yolu var mı?
Yazı: Selin Akbaş
Uyku molası vermek her yaştan insan için çok önemli. Son yıllarda uyku molası ile ilgili yapılan araştırmaların pek çoğu, gün içindeki 20-30 dakikalık kısa uykuların yetişkinler için de faydalı olduğunu ortaya koydu. Bu araştırmaların etkisiyle günümüzde yetişkinler de çalışma saatleri içinde kısa uyku molaları vermeye başladı. Pew Research Center'ın yaptığı araştırmaya göre, ABD'deki yetişkinlerin üçte biri gün içinde uyku molası veriyor. Bearaby'nin CEO'su Kathrin Hamm, geceleri sekiz saatlik uykusuna ek olarak gündüzleri de 30 dakikalık uyku molası verdiğini söylüyor.
Peki uyku molası – power nap – nedir ve nasıl yapılmalıdır? Uyku molası, aslında gün içinde ofisinizde yapacağınız kısa bir şekerleme. Uzmanlar genellikle bu molanın öğle yemeğinden bir ya da iki saat sonra olmasını uygun buluyor. Çünkü bu saat aralıklarında hem kan şekerimiz hem de enerji seviyemiz düşüyor. Öğle yemeğinden sonra verilen 20 veya 30 dakikalık uyku molaları enerjimizi toplamamızı sağlıyor. Fakat araştırmacılar, uyku molasının en fazla 30 dakika olmasını öneriyor. Yarım saatten fazla uyuduğumuzda derin uykuya geçiş yapıyoruz; bu durum da uyandığımızda sersemlik ve yorgunluk hissetmemize sebep oluyor.
Google, Zappos gibi pek çok şirket, uyku molasının verimliliği artırması sebebiyle çalışanlarına uyku molası için odalar oluşturuyor. Arianna Huffington, uykunun insanları daha üretken, yaratıcı, mutlu ve sağlıklı hale getirdiğini; gün ortasındaki 20 dakikalık bir uykunun hayatımızda büyük bir değişime sebep olduğunu söylüyor. Huffington Post'un ofisinde tam olarak bu sebepten uyku odaları bulunuyor.
Yapılan pek çok araştırma; uyku molasının sağlığımızı, iş hayatında üretkenliğimizi ve verimliliğimizi artırdığını ortaya koyuyor. Örneğin, NASA'nın pilotlar üzerinde yaptığı bir araştırmaya göre, günde ortalama 26 dakikalık bir öğle uykusu pilotların performansını %36, dikkatlerini ise %54 arttırıyor. Nature Neuroscience tarafından yapılan bir başka araştırmada, 30 dakikalık öğle uykusunun insanların performanslarındaki kötüleşmeyi durdurduğu ortaya çıktı. Kaliforniya Üniversitesi Psikoloji Bölümü Öğretim Üyesi Sara Mednick, kaliteli uyku molalarının gece uykusu kadar yararının olduğunu belirtiyor. Mednick, uyku molasının ezberleme ve belirli spesifik bilgileri öğrenmeye yardımcı olduğunu da ekliyor.
Çalışırken verdiğimiz kısa uyku molaları aynı zamanda problem çözme yeteneğini geliştiriyor; işte yapılan hataları azaltıyor, öğrenme kapasitesini arttırıyor, hafızayı güçlendiriyor ve iş stresini minimuma indiriyor. Uzmanlar, uyku molasından önce kahve içmenin, uyku sonrası kendimize gelmeyi hızlandırdığını belirtiyor.
Uyku molası için en ideal mekanlar ise rahat, serin ve karanlık odalar. Bu anlamda, Recharge Room'lar ofis ortamında uyku molası için en uygun mekanlar. Recharge Room'lar uyku alanı dışında meditasyon veya oyun odası gibi alternatif kullanım alanlarına da dönüştürülebiliyor.
Konvansiyonel ofislerde pek de sık rastlamadığımız Recharge Room'lar, işte bu sebeplerle yeni nesil çalışma alanlarının vazgeçilmez bir parçası haline geldi. Yoğun iş temposunda hem sağlığınız hem de çalışma verimliliğiniz için Assembly'de bulunan Recharge Room'u kullanabilir; zihninizi ve bedeninizi tazeleyebilirsiniz.
Kaynakça:
Christofferson, Trish.  (Aralık, 2017) Zappos Nap Room Has Sleeping With the Fihes.
https://www.zappos.com/about/stories/nap-room-sleeping-with-fishes
Herrera, Tim. (Haziran, 2017).  Take Naps at Work. Apologize to No One.
https://www.nytimes.com/2017/06/23/smarter-living/take-naps-at-work-apologize-to-no-one.html
Kline, Kenny. Why Power Napping Can Improve Your Productivity and 4 Ways to Do It Right.
https://www.inc.com/kenny-kline/why-power-napping-can-improve-your-productivity-and-4-ways-to-do-it-right.html
Mohan, Pavithra. (Ağustos, 2019). 15 CEOs on How Much Sleep They Actually Get.
https://www.fastcompany.com/90380247/15-ceos-on-how-much-sleep-they-actually-get
Littlehales, Nick. (Ekim, 2016). The Secret of Power Napping.
https://www.theguardian.com/lifeandstyle/2016/oct/23/the-secret-of-power-napping
Rakicevic, Mira. (Temmuz, 2019). 29 Napping Statistics and Facts to Think About.
https://disturbmenot.co/napping-statistics/
Weir, Kirsten. (2016). The Science of Naps.
https://www.apa.org/monitor/2016/07-08/naps
Wilson, Emily. (Mayıs, 2019). 8 Reasons Why You Need a Recharge Room.
https://www.insightsforprofessionals.com/hr/leadership/why-you-need-recharge-room