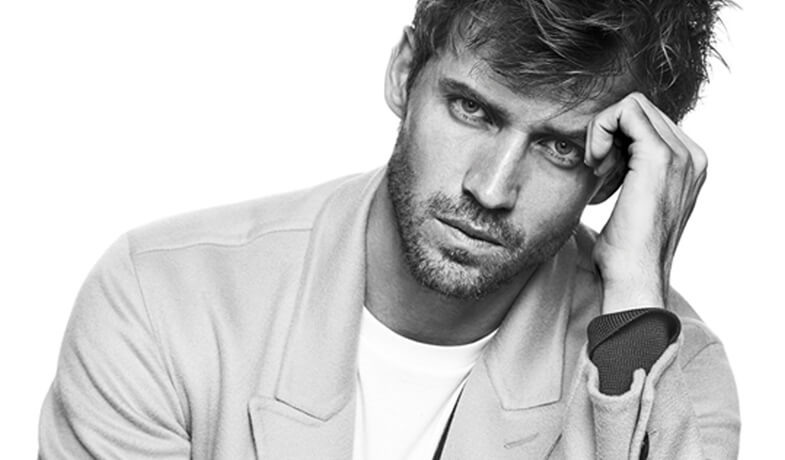 TÜKETİM ÇAĞINDA KİŞİLİK FORMASYONU
Android mi yoksa iPhone mu? Bu tip sorular kimilerine klişe gelebilir. Ama günümüzün imgeler, objeler ve tüketim dünyasında alacağımız cevap, karşımızdaki insana dair önemli ipuçları veriyor. Ve tabii kendimize de…
Yazı: Fatima Çelik Fotoğraf: Alistair Taylor-Young Model: Andrew Cooper, Courtesy of L'Optimum
Başkalarının bizi nasıl gördüğünü önemsiyoruz. Özellikle profesyonel hayatta, başkalarında bıraktığımız izlenim, önceliklerimiz arasında hep üst sıralarda yer alıyor. 'Daha iyi bir ben' inşa etmenin yolu da çoğu zaman karşımızdakinin algısını yönlendirmekten geçiyor. Bu müdahaleyi, ağırlıklı olarak fiziksel görünüm ve nesneler üzerinden yapıyoruz. Öyle ki artık tüketim ürünlerini ihtiyaçlarımızı karşılamak için değil, başkalarının gözündeki yansımamızı şekillendirmek için kasıtlı olarak seçiyoruz.
Seçenekler bolluğunda yaşadığımız için bir ürünü seçmek, başka birçok üründen feragat etmek anlamına da geliyor. Yani yalnızca sahip olduklarımız değil, sahip olmayı tercih etmediklerimiz de kişilik inşa sürecimize dahil. Yaşam tarzımızdan yediklerimize ve yemediklerimize, evcil hayvanımızdan kullandığımız telefona, seçtiğimiz ve seçmediğimiz her şey birer iz düşümümüz haline geldi. Seçimlerimizin altında yatan motivasyonları açıklamaya çalışan araştırmalar, bu eylemi genellikle sosyal ve ekonomik davranışlarımızın belirlediğini ortaya koyuyor. Yani içinde bulunduğumuz koşullarda çıkarlarımıza ve menfaatlerimize en uygun olanı tercih ediyoruz.
'Daha iyi olanı' seçmek
Peki, aynı fonksiyonlara sahip iki üründen birini nasıl seçiyoruz? Columbia Business School profesörlerinden Sheena Iyengar, bu eylemin ön yargılar ve referanslar yoluyla gerçekleştiğini savunuyor. The Art of Choosing başlıklı TEDGlobal konuşmasında Iyengar, görme engelli bir birey olarak gittiği kuaförde oje renklerinin kendisine sunulma biçimini anlatıyor. Manikürcü, "ballet slippers" ve "adorable" adında iki farklı tonda pembe ojenin ilkini Iyengar'a 'pembenin zarif tonu', ikincisini ise 'pembenin çekici tonu' olarak tasvir ediyor. Bu deneyiminden hareketle bir araştırma yapan Iyengar, katılımcılara üzerinde isim etiketi olmayan ojeleri sunduğunda çoğunun "adorable", yani çekici tonu tercih ettiğini, aynı iki ojeyi üzerine isimleri varken sunduğunda ise aynı katılımcıların "ballet slippers", yani zarif tonu seçtiğini gözlemliyor. Iyengar bu araştırmasıyla, birincil işlevi tırnakları renklendirmek olan bir ürünün etiketinin, fonksiyonundan daha önemli olduğunu ortaya koyuyor.
Gelelim akıllı telefonlara. İlk aşamalarda Apple kullanıcısı olmak "farklı düşünmek" ile ilişkilendirildi ki bu slogan hâlâ işlevini koruyor. Çünkü insanlar ürünü değil; ürünün imajını, dolayısıyla ürünle yapabileceklerinin hayalini satın alıyor. Diğer yandan Samsung, bu imaj gerçeğini göz ardı ederek pazarlama stratejisinin odağına ürünlerinin fonksiyonlarını koydu. Bu sayede olabildiğince fazla kullanıcıya ulaşmayı hedefliyordu. Ama artık Samsung da işlemci hızından ya da ekran çözünürlüğünden bahsetmekten kaçınıyor çünkü bu bilgiler insanların yüzde 99'unun umurunda değil. İnsanların asıl önemsedikleri, söz konusu ürünleri kullandıklarında kime dönüşecekleri. Bunu geç fark eden Samsung, artık potansiyel kullanıcılarına "be like us" mesajını veriyor. Hatta son zamanlarda daha da ileri giderek Apple'ın kullanıcılarını "kısır bir dünyaya sıkışmış ve değişimden korkan" bireylere dönüştürdüğünü iddia ederek "Growing up" adlı bir reklam filmi yayınladı. Bu filmde nihayet Samsung'a geçiş yapma cesaretini gösteren bir genç, iPhone bağımlısı olmuş başka bir gencin daha iyi bir versiyonu olarak tasvir ediliyor. Filmin verdiği mesaj açık: "Don't be him." Önerdiği çözüm ise daha da açık: "Buy a Samsung."
Peki, tüm bu reklam ve pazarlama stratejileri içerisinde şekillenen tercihlerimiz, hakkımızda neler söylüyor? Lancaster Üniversitesi, pazarın yüzde 90'ını oluşturan Android ve iPhone kullanıcıları arasındaki farklılıkları ve benzerlikleri tespit edebilmek için 2016 yılında bir araştırma yaptı. Bu araştırmaya göre Android kullanıcılarına kıyasla iPhone kullanıcıları daha genç insanlardan oluşuyor ve bu insanlar, telefonlarını statülerinin göstergesi olarak görüyorlar. iPhone kullanıcıları, daha düşük seviyelerde dürüstlük, alçakgönüllülük ve daha yüksek duygusallık sergilerken, Android kullanıcıları, daha yaşlı olmalarına rağmen daha makul ve daha açık sözlü oluyorlar. iPhone kullanıcıları daha dışa dönükken, Android kullanıcıları, daha içe dönük olmalarına rağmen başkalarıyla benzer ürünlere sahip olmaktan kaçındıkları için yenilik peşinde koşmaya daha meyilli.
Elbette bu bulgular ileride yürütülecek daha büyük araştırmaların ilk adımları. Akıllı telefonların dijital versiyonlarımıza dönüştüğü günümüzde markalar, potansiyel tüketicilerin tercih motivasyonlarına yönelik daha karmaşık stratejiler geliştirmekle meşgul. Tüketiciler ise "gerçekte" nasıl biri olmak istediklerini bu pazarlama stratejilerden bağımsız düşünemeyecek halde. Temelde haberleşme aracı olan telefonlar, artık kişiliğimizin bir uzantısı olmuş durumda. İmajımızın tamamlayıcısı haline gelen bu ürünü, bakalım yakın gelecekte başka hangi ürünler veya ürün grupları izleyecek…
Kaynakça:
Csikszentmihalyi, Mihaly & Rochberg-Halton, Eugene (1981). The Meaning of Things: Domestic Symbols and The Self. Cambridge University Press, Cambridge [Eng.]; New York
Nethercutt, Z. (Temmuz, 2018). People Don't Buy Products, They Buy Better Versions of Themselves. https://medium.com
Heather Shaw, David A. Ellis, Libby-Rae Kendrick, Fenja Ziegler, Richard Wiseman. Predicting Smartphone Operating System from Personality and Individual Differences. Cyberpsychology, Behavior, and Social Networking, 2016