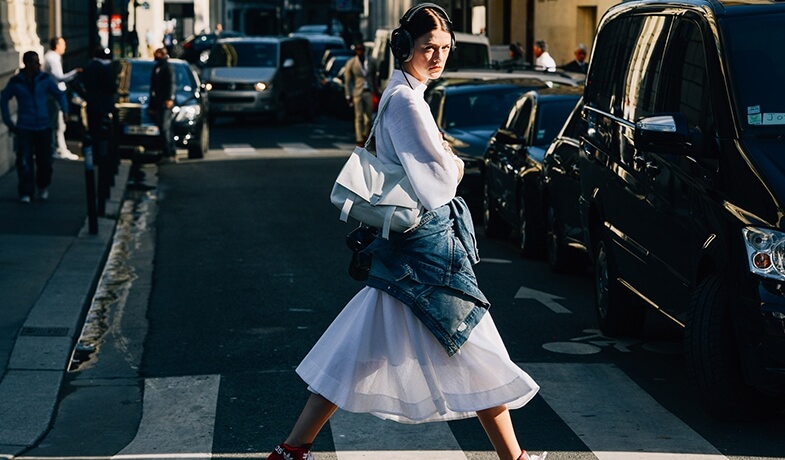 DİJİTALLEŞMİŞ DÜNYADA KİŞİSELLEŞEN MODA
Google'ın günlük rutinlerimizi değiştirdiği su götürmez bir gerçek. Artık e-posta altyapısından harita hizmetlerine, not defterinden ajandaya, hatta Office programlarının muadili olarak Google'dan ve yan hizmetlerinden faydalanıyoruz. Benzer şekilde Spotify, Amazon, Uber ve Netflix gibi başarılı girişimler sonucu hayatlarımızda yer etmiş platformlar da; müzik dinleme, televizyon izleme, yolculuk ve alışveriş yapma alışkanlıklarımızı kökten değiştirdi. Her alana sirayet eden bu yapay zeka devrimi, elbette moda sektörünün dikkatinden kaçmayacaktı.
Yazı: Fatima Çelik
Devir, kişisel deneyimlerin devri. Kişiselleştirilmiş deneyimler sunan markalar, hemen bir adım öne çıkıyor. Şirketler, dijital verileri yaratıcı insan gücüyle işleyerek her bir tüketiciye özgü formüller geliştirebildikleri ölçüde hayatta kalabiliyor. En unutulmaz dijital deneyimlerin ortak özelliği de, bu sayısal veri ile yaratıcılığı bir araya getirme kabiliyetleri. Şimdi bu tür gelişmelere ayak uydurma sırası, moda sektöründe.
Kendine has bir görsel dünyası olan moda endüstrisi, tüketicileri yeni trendlerden ve ürünlerden haberdar etmek için çok uzun zamandır görsel ve basılı medya araçlarını kullanıyordu. Oysa göz alıcı defilelerin ve podyumları süsleyen mankenlerin etkisi, dijitalleşen günümüz dünyasında her geçen gün azalıyor. Podyumların yerini sosyal medya, mankenlerin yerini ise influencer'lar almış durumda. İnsanlar artık ne giyeceklerine televizyona ya da dergilere bakarak karar vermiyor. Mağazalara gidip ürün incelemek ise zaman kaybı olarak görülüyor. Peki, online alışveriş bu denli revaçtayken, çevrimiçi platformlar iyi bir alışveriş deneyimi sunabiliyor mu?
Tüketicilerin online platformlarda kategoriler, renkler ve bedenler arasında kaybolduğunu fark eden ve yapay zeka gibi gelişmeleri yakından takip eden moda platformları yeni çözüm arayışlarına girdi. Bunlar arasında en dikkat çekeni, moda dünyasının Spotify'ı olmayı amaçlayan, Avrupa'nın en büyük e-ticaret platformu Zalando.
Spotify'ın 140 milyon aktif kullanıcısının neredeyse tamamı, yaşadığı dijital deneyimden oldukça memnun. Spotify Premium almak ise tabiri caizse artık bir zorunluluk. Şirketin bu başarısının ardında, "Algorithms" ve "Editorial" kelimelerinden türetilen "Algatorial" denen yaklaşım yatıyor. Algorithms, kişisel zevklere hitap eden çalma listelerini oluşturmak için kullanılan algoritmalara gönderme yaparken; Editorial, türlere, sanatçılara ve ruh hallerine göre ayarlanmış çalma listelerinin küratörlüğünü yapan kurum içi uzmanların insani dokunuşlarına işaret ediyor.
Bu yaklaşımıyla her bir kullanıcının ihtiyaçlarına yönelik içerikler üretebilen Spotify, Zalando'nun da ilham kaynağı. "Moda bazlı bir işletim sistemi" kuran Zalando; ürün tanıtımları, online platformları ve müşteri hizmetleri ile moda dünyasını değiştireceğe benziyor.
Çağa ayak uydurmayı amaçlayan bir diğer moda markası olan Farfetch de Spotify'ın algoritmasından ilham alıyor. Stilin müzik zevki kadar kişisel olduğunu fark eden Farfetch, butik moda evlerinin ürünlerini Farfetch platformlarında satabilmelerine imkan sağlıyor. Böylelikle, bünyesindeki ürün ve stil çeşitliliğini artıran platform, tüketicilerin verdiği bilgiler doğrultusunda, onlara ilgilenebilecekleri "kıyafet" listeleri sunuyor. Lüks ürün tüketicilerinin "özel" varlıklara sahip olmak istediğinin de farkında olan marka, her bir ürünün kendine has bir öyküsü olmasına özen gösteriyor.
Moda dünyasının Spotify'dan öğrendiği tek şey, elbette yapay zekayı kullanma biçimi değil. Spotify, "müzik" tüketimi alışkanlıklarını da değiştirdi. Müziği somut bir materyal olmaktan çıkararak, onu dijital ve paylaşılabilir bir mülke dönüştüren Spotify'dan önce albümler CD raflarımıza dizili bir halde evimizi süslerdi. Şimdiyse, müzisyenler yeni çıkan albümlerini ilk olarak Spotify'a yüklüyor ve biz de o albümlere fiziksel olarak sahip olma gereği duymadan, tamamen yasal bir şekilde erişebiliyoruz. Dinlemekten sıkıldığımız albümleri kolaylıkla listemizden çıkarabiliyor, yeni keşfettiklerimizi de yine aynı kolaylıkla kaydedebiliyoruz. Trendlerin çok hızlı değiştiği günümüz moda endüstrisinde de satın almak yerine kiralamak kulağa çok daha mantıklı geliyor. Ancak güvenilir ve temiz kiralama hizmeti sunan platformlar henüz yok denecek kadar az. Bu ihtiyacın farkına vararak ve Spotify'dan ilhamla oluşturulan Rent the Runway platformu, evimizdeki gardıropların yerine dijital koleksiyonları koymaya çalışıyor. Rent the Runway'de belirli bir paket satın alarak, trend ürünlerine erişebiliyor, ihtiyacımız kalmadığında ise onları yeni ürünlerle değiştirebiliyoruz.
İhtiyaçlar doğrultusunda kendini her an güncelleyen Zalando ve Rent the Runway gibi platformlar gün geçtikçe artıyor. Yaratıcı editoryal gücü göz ardı etmeden yapay zekayı kullanabilen platformlar sayesinde moda endüstrisi de renk değiştiriyor. Artık mağazalarda yaşadığımız kararsızlığın yerini akıllıca kategorize edilmiş online platformlardaki mutlu deneyimlerimiz, gardırobumuzda işlevsiz bir halde bekleyen modası geçmiş kıyafet yığınlarının yerini ise yeni trendlere göre sürekli güncelleyebildiğimiz online koleksiyonlarımız alacak. Veri bilimi ve tasarım ilkeleriyle kişiselleştirilen alışveriş kültürü, eski alışkanlıkları geride bırakarak güncel ihtiyaçları takip ettiği sürece hayatımızda kalıcı bir yer edineceğe benziyor.