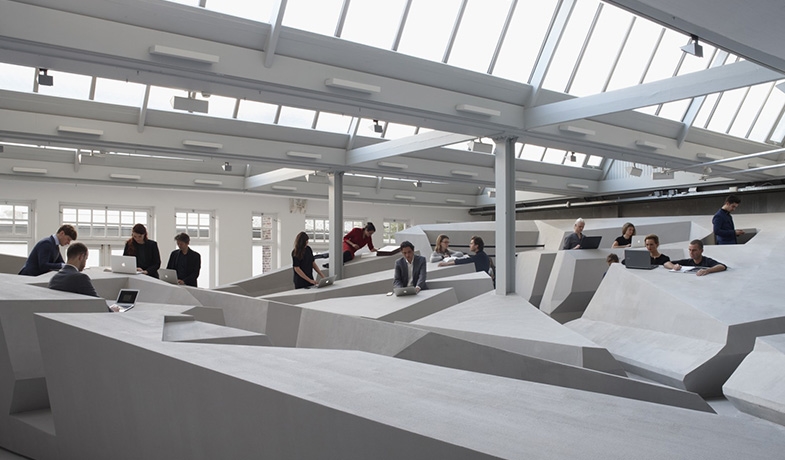 1900'LERDEN 2000'LERE OFİS ALANLARI NASIL DEĞİŞTİ?
Yeni neslin iş hayatına katılması, teknolojinin hayatımızda gitgide daha fazla yer alması gibi nedenlerle ihtiyaçların dönüşmesi ofis alanlarının gözle görülür bir değişimden geçmesiyle sonuçlanıyor. Çalışanlar arası iletişimin sınırlı olduğu kapalı alanlar, yerini üretkenliği ve motivasyonu artırdığı düşünülen karma mekânlara bırakıyor. Peki, ofis alanları geçmişten günümüze nasıl bir değişimden geçti? Tecrübe edilen bu değişimler göz önünde bulundurulduğunda, sınırların belirgin olduğu kapalı ofis alanları hala tercih edilmeli mi yoksa ortak, açık alanlara mı geçilmeli?
Yazı: Gökçe Yaldız
Şimdilerde kurum kültürünün ve şirket kimliğinin belirgin bir göstergesi olan çalışma alanları, elbette ilk başlarda böyle değildi. Hatta 18. yüzyıla kadar özel ofis alanları da yoktu. Bilinen ilk ofis binası denildiğinde, karşımıza kraliyet donanmasının evrak işleri için, 1726'da Londra'da inşa edilen The Admiralty Office adlı yapı çıkıyor. Evrak ihtiyaçları için daha fazla alana ihtiyaç duyulması nedeniyle oluşturulan bu yapıyı diğer ofisler takip ediyor.
Farklı Ülkelerde Ofisin Evrimi
1900'lerle birlikte ise Frederick Taylor adlı Amerikalı bir mühendisin yönlendirmesiyle ofis alanlarında ilk ciddi değişim gerçekleşti. Sonradan Taylorizm olarak isimlendirilen bu değişimin amacı verimliliği arttırmaktı. Böylece, çalışma masalarının sistematik bir şekilde konumlandırılmasıyla yöneticilerin çalışanları gözlemleyebileceği açık ofis alanları ortaya çıkıyordu ancak bu değişiklik katı bir statü ayrımcılığına sebep olduğu gerekçesiyle çokça eleştirildi.
Frederick Taylor'la başlayan açık ofis anlayışı bir süre belli ölçülerde değişerek devam etse de, ticaretin dinamiklerinin dönüşmesiyle birlikte çok daha farklı bir hâl aldı. 1939'da Frank Llyod Wright tarafından sosyalleşmeye imkân tanıyan, statü kavramının sınırlarının silikleştiği, çalışanlar için mutfak ve benzeri alanların olduğu açık ofisler ortaya çıktı.
1960'lara gelindiğinde ise bir Alman konsepti olan ve Burolandshaft adı verilen ofis yerleşimi benimsendi. İlk olarak Kuzey Avrupa'ya sonrasında ise tüm dünyaya yayılan bu yerleşim, iş akışını ve iletişimi geliştirmeyi hedefliyordu. Taylorizm ile başlayan ve sonrasında Frank Llyod Wright'ın açık ofis planıyla silinmesi amaçlanan sınırların bu defa tamamen ortadan kalkması düşünüldü. Katı hiyerarşik düzenin yıkılmasını merkeze alan bu konsept, verimliliği olumsuz etkilediği düşüncesiyle sonraları eleştirildi.
Kişisel Alan Sorunu
Burolandshaft modelinin aldığı olumsuz geri dönüşlerin ardından "Action Office" denilen bir anlayışla sorun ortadan kaldırılmaya çalışıldı. Bu modelle çalışanlara daha fazla kişisel alan ve hareket özgürlüğü sağlanabiliyordu fakat bu tip ofisler çalışanlara her ne kadar özelleştirilebilir alan sağlasa da, etkileşimi minimuma indirdiği sebebiyle ilgi çekmedi.
1980'lere gelindiğinde ise işverenler maliyeti düşürmek için büyük çalışma alanlarını bölümlere ayırarak "Cubicle Farm" olarak anılan modeli tercih etmeye başladı. Aynı alan içinde küçük panellerle ayrılan çalışma masalarının tekdüze bir görüntü oluşturmasının da etkisiyle, bu model çok yaratıcı veya enerjik bir çalışma ortamı sunamıyor.
2000'lerde Açık Ofis mi, Kapalı Ofis mi?
2000'lere geldiğimizde, büyük şehirlerde yaşamanın verdiği stres ve iş dünyasının artan yoğunluğu gibi nedenlerle çalışanların, iş alanlarını ve bu alanlarda geçirdikleri uzun zamanı daha kaliteli hale getirmek istediğini görüyoruz. Bu durum da yeni ofis trendlerini beraberinde getiriyor. İç mekânlardaki havayı temizleyen ve oksijeni arttıran bitkileri ofisin farklı alanlarına yerleştirmeyi ya da recharge ve meditation room gibi zihni değerlendiren alanlar sunmayı bu trendlerden birkaçı olarak düşünebiliriz.
Peki, ofis alanlarının 1900'lerden beri yaşadığı bu değişimler karşılaştırıldığında açık ofis alanları mı yoksa sınırların daha keskin olduğu kapalı ofis alanları mı tercih edilmeli?
Artık şirketlerin büyük bir kısmı çalışanları iş birliğine teşvik etmek ve motivasyonu arttırmak için açık ofis alanlarını tercih ediyor. Bununla birlikte son zamanlarda yapılan çalışmalar, çalışanların açık ofis alanlarında dikkatlerinin daha çabuk dağılabildiğini ve bu alanların kişisel alanın sınırlı olması nedeniyle eleştirildiğini gösteriyor. Örneğin, Dr. Nicola J. Millard "New Scientist Live" isimli konferansında, açık planlı ofisler hakkında şunları dile getiriyor: "Açık planlı ofisler, herkese uygun olması beklenen ancak gerçekte kimseye uymayan bir modeldir. Üç dakikada bir yaptığımız işi bırakmak zorunda kalıyoruz. Aynı düşünce sürecine dönmek ise sekiz ile yirmi dakikamızı alıyor. Dikkatimizi dağıtan çok fazla öge var." Journal of Environmental Psychology'de yayımlanan "Workspace Station" adlı makalede ise açık ofislerde çalışan kişilerin memnuniyetsizliğinin çoğunlukla gürültünün kontrol altına alınamamasından ve gizliliklerinin olmamasından kaynaklandığı belirtiliyor.
Diğer taraftan, Microsoft'un da aralarında bulunduğu bazı şirketler, konsantrasyonu sağlamak ve kişisel alanın sınırlarını belirlemek için daha kapalı alanlarda çalışmayı doğru buluyor. Microsoft'un global iş yeri stratejisti Martha Clarkson şu ifadelerde bulunuyor: "İnsanları aynı ortama koyup onlara gerekli gizliliği sağlamazsanız, bu yöntem sonuç vermeyecektir. İster odaklanma odaları, lounge'lar veya teraslar; isterse dışarıdaki yürüme alanları olsun, insanlar düşünmek için alternatif alanlara ihtiyaç duyar."
Anlaşılacağı üzere uzmanlar ve bilimsel çalışmalar, gürültü yaratması ve kişisel alanın sınırlı olması nedeniyle açık ofis alanlarının doğru bir tercih olmadığını söylüyor. Bu noktada asıl sorulması gereken soru ise; çalışanların bu konuda ne düşündüğü. The 2019 U.S Workplace Survey'in araştırmasına göre, çalışanların %77'si ofislerinde hem ortak alanların hem de kendi başlarına çalışıp vakit geçirebilecekleri özel alanların olmasını istiyor. Araştırmada ayrıca çalışanların sosyalleşebilecekleri ve yaptıkları işler dışında da yeni şeyler öğrenebilecekleri "kütüphane, çalışma kafesi, inovasyon odası" gibi alanların olduğu, geniş bir çalışma alanında çalışmayı istedikleri de belirtiliyor.
Kaynakça:
Cagnol, R. (Nisan, 2013). A Brief History Of The Office. https://www.deskmag.com
The History of Office Design. https://k2space.co.uk
Açık Planlı Ofisler Yeniden Ele Alınıyor: Verimli Çalışma Alanları Hakkında Yeni Fikirler. https://www.regus.com.tr